Back to all posts
Posted on
NDA Winter Fundraisers - Growing Smiles and Mom's Pantry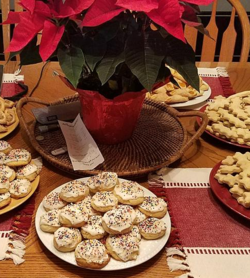 NDA Winter Fundraiser
Growing Smiles and Mom's Pantry
We are excited to start our Fall fundraiser! We are offering 2 different fundraisers this year. All
fundraising will be available online.
First one is Growing Smiles.
Growing smiles offers some incredible Greenery that includes; Poinsettias, Tropical Planter, Wreaths, Greenery Boughs, and Outdoor Greenery Arrangements. These are surely to brighten up your house forthe holidays and leave your house smelling amazing. These can be ordered directly from the
website: ndacademy.growingsmilesfundraising.com This links will take you directly to the NDA
fundraising website to place your orders.
Our second fundraiser is Mom's Pantry. Mom's

Pantry offers over 200 diverse items, from spices, tea, fruits & veggies, and superfoods to
cookie dough, frozen ready to bake treats, and snacks. You can click on this link
www.momspantry.ca and it will take you directly to Mom's Pantry website. Use order number
379862 and Password 13351 to place your orders.
Orders will be due no later than November15th at noon.
Pick up will be November 29th between 2pm and 5pm.
We ask that you make sure to pick up all orders as there is no where to store the perishables.
Thank you for your continued support of NDA's fundraisers!
If you have any questions please feel free to text or call Laurie @ 403-957-1625