Back to all posts
Posted on
Textbook, School Supplies, Chromebook Pick Up and Updates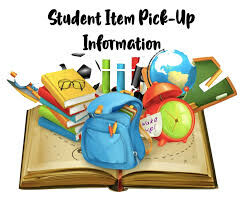 Textbook, School Supplies, Chromebook Pick Up and Updates
Update
- we now have another student who has tested positive for Covid.  This brings our current totals to:  4 students and 1 teacher  - no new classes have to quarantine though
- quarantined classes are 62, 63, 64, 75, 84, 91, 92 and 8/9 Hockey Academy
- Students will return to school on Monday, May 10, 2021
Textbooks, Supplies and Chromebook Pick Up
- Monday, April 24, 2021 - 7:30 am - 1:00 pm  and 5:00 - 7:00 pm
- students who do not have to quarantine can come to the school to pick up their supplies.
- students who do need to quarantine can have a family member or someone else pick up their supplies.
- those picking up supplies will enter through the front door and make their way down to the class.  All desks and bins will be labelled with student names.
- Chromebooks can be signed out at this time.
- once supplies are collected then they will exit through the grade 8 entry doors.
Student Learning  Expectations for the Next 2 Weeks
- Monday will be a planning day for all teachers and a day to pick up supplies from the school -  No Classes will be taught this day 
- the focus will be on the core subjects - Students will need to attend Google Meets for all LA, Math, Science and Social classes ONLY
- Options:  We will not be teaching options for the next 2 weeks.  I will put a Google Classroom together for Options Classes for all students to partake in - this will contain Mr. Lanigan's  Cooking Recipes and Videos for students to make if they desire.  There will be no Google Meets during option times.
- Religion:  We will not be asking students to join a Google Meet over the next 2 weeks for Religion either - once again I will put a Religion Google Classroom together for all students - This classroom will contain some Fr. Mike Devotion and Inspirational videos.
- PE and Academy:  Mrs. Rae has put a Google Classroom together that will have daily PE activities for students to do indoors and outdoors for those that can.  
Folks, I know this is going to be tough and that your child may not want to go back to this form of learning.  Just Do The Best You Can.  We Got This.
If you have any questions or concerns, please don't hesitate to give me a call or email.  
Neal Siedlecki
NDA Principal
Cell:  (403)580-0288
School: (403) 527-5118