Back to all posts
Posted on
School Re-Entry Plan (Scenario 1)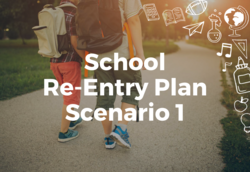 Welcome Back!
Thank You for choosing to be part of our NDA Family! The information below is designed to give you a quick snapshot of some of the key elements that have been put together in order for all students, staff and parents to be able to work, learn, be safe and enjoy our time at NDA together. We will be going through this with all students in a more detailed fashion on the first day. We are hoping this will all be temporary. Please understand that your child's physical, emotional, social and spiritual well-being is our top priority. With that, please be patient with us as things are changing daily. We are all in this together.
To start the year off, we will have a staggered start for our students. This will help us formulate some Covid routines in a smaller capacity.
Grade 6 and 7 Students Only will attend Monday, Aug 31, 2020 for the full day.
Grade 8 and 9 Students Only will attend Tuesday, Sept 1, 2020 for the full day.
All students will attend school together starting Wed, Sept 2, 2020.
Guidance for School Re-Entry Scenario 1 (Government of Alberta) August 20, 2020
This document will continue to be updated based on orders from the Chief Medical Officer for Health, recommendations from Alberta Education, and the discovery of new evidence.